Although "Imitation is the sincerest form of flattery"… Nothing is the same as a quality Peach Buns® Suit!
About Us
Since 1997 Georgia Peach Buns has forged a unique brand statement of savvy style and flirty combinations for confident young women that demand the second look and the perfect fit! Each order is custom made with your individual mix and match specifications and then shipped within 24-48 hours. Something no other companies can offer! We manufacture all of our swimwear and apparel in the USA with only the most original unique luxury fabrics and exquisite Swarovski crystals, lace, and sequin trims, sourced by our designer to give each product a signature look. Quality is the difference! It is the #1 ingredient in all of our feminine styles and designs and helps guarantee the best fitting, longest lasting, swimwear and fitness fashions on the market today. Next is our goal to offer the best price around. All swimwear is fully lined and boasts high quality material workmanship, and more impressively…It's all made right at our facility. The original designer and founder of the company (Miranda Music) works directly with our customers and size fit models to accomplish the perfect sizing and most popular styles in swimwear, sexy dresses, yoga, and athletic apparel; before it ever goes into production. Can't find the older higher cut styles anymore?? We have them! Since we make every order in house, you can wear your favorite style from the past, and it doesn't cost you any additional charge!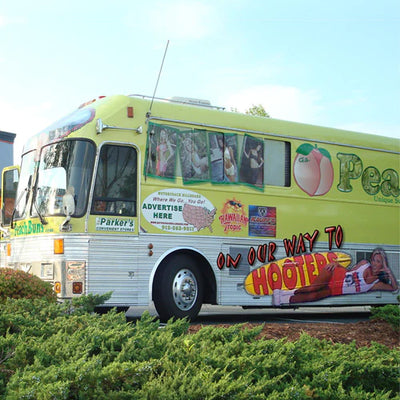 Throughout the year you will find Peach Buns Tour Bus at many annual events, like Super Bowl, Bike week & always Fla Vs Ga Football! We have been the official sponsor for Southeast Hooters Bikini Contests for 7 Years running & Welcome any interest in our participation in new & exciting venues, golfing, or other sports events. Look for our upcoming schedule under our event calendar & of course, ..Stop by to shop inside and experience our Southern Grown Hospitality.
Ga. Peach Buns, Inc. is a Georgia Corporation formed in 2001. It was founded by Miranda Music in 1997 as a mail order Company which opened its first retail store in Darien , GA. The Collections consisted of Toddler Swim Lil Peach Buds™ , Junior Miss Swimwear Peach Buns ®, Mommy and Me combinations, and high end specialty line Miranda Music®. Lounge and Active Wear. Toddler and Mommy & Me combinations are still available upon request, and will be added back into our shopping cart soon!
Our Goods are sold through out the U.S and Multiple foreign Countries. Ga. Peach Buns, Inc. holds US Copyrights for Peach Buns and Peach Bums logos and all hand painted and original crystal motif designs, Georgia State, Federal Trademarks, and International Trademarks.